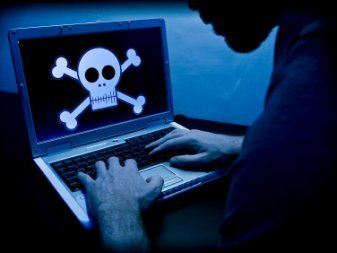 How To Block Websites From Using Your CPU To Mine Cryptocurrency
Over the weekend, torrent portal The Pirate Bay was caught running a cryptocurrency miner on its website, queitly hijacking visitors' computing resources to stack Monero coins, .
Coin Hive, the service used by Pirate Bay allowed it to mine the cryptocurrency called Monero without the consent of users while users had the website opened in a browser tab.
This illicit nature highlights the problem of not only unregulated cryptocurrencies but cryptocurrency mining as well.
The Pirate Bay has since confessed its sins on its official blog, claiming the JavaScript mining implementation was "only a test" as part of their efforts to "get rid of all the ads" clustered on their site.
Block websites from using your CPU to mine cryptocurrency.
As a viable alternative to ad revenue, in future, some more websites may start using services that use visitors' CPU power to generate cryptocurrency profits.
Following softwares & browser extensions you can use to block websites.
ScriptSafe (Chrome)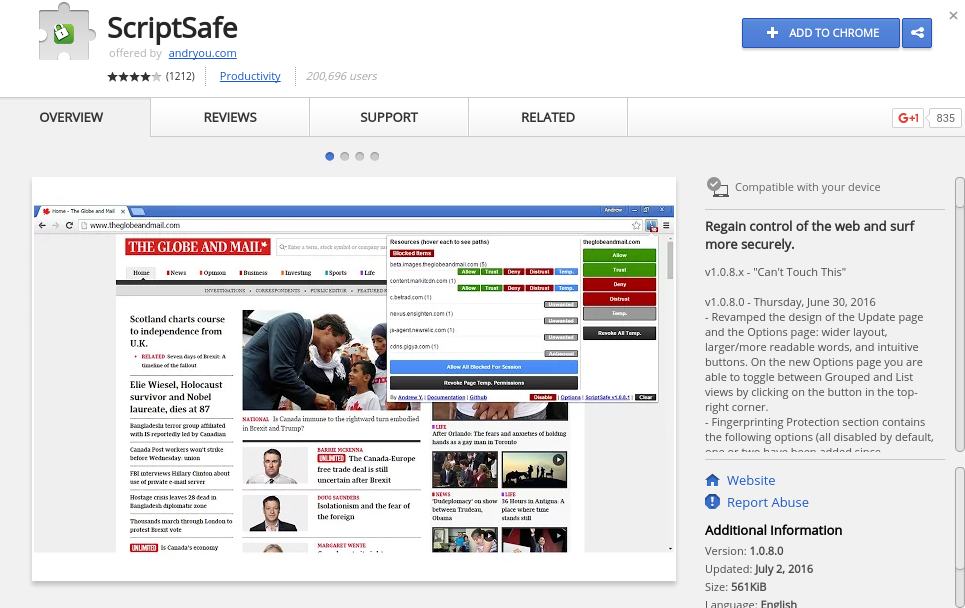 If you are a Chrome user and looking for an extension to stop certain websites from your computer resources for cryptocurrency mining, try ScriptSafe.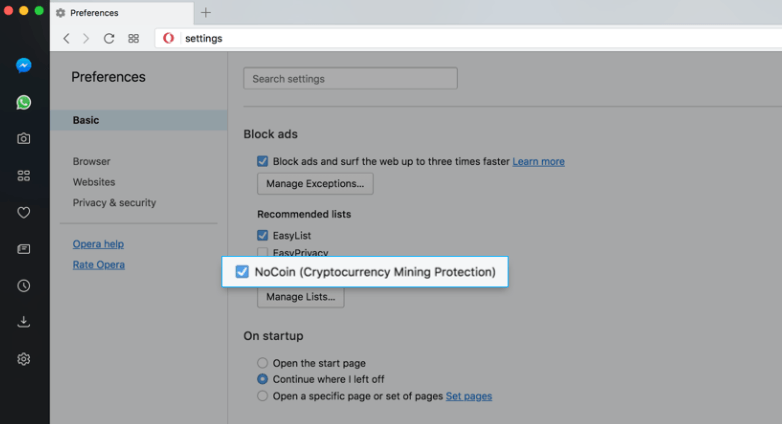 The extension gives users control of the web and more secure browsing while emphasizing simplicity and intuitiveness.
Miner Block ( Chrome)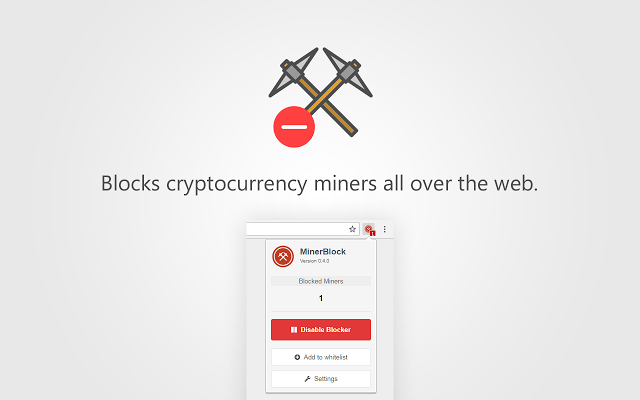 Blocks cryptocurrency miners all over the web.
MinerBlock is an efficient browser extension that focuses on blocking web-based cryptocurrency miners all over the web.
This extension uses two different approaches to block miners.
The first one is based on blocking requests/scripts loaded from a list of blacklisted domains, this is the traditional approach adopted by ad-blockers and other mining blockers.
The other approach which makes MinerBlock more efficient against cryptojacking is detecting potential mining behavior inside loaded scripts and killing it immediately.
Anti Miner (Chrome)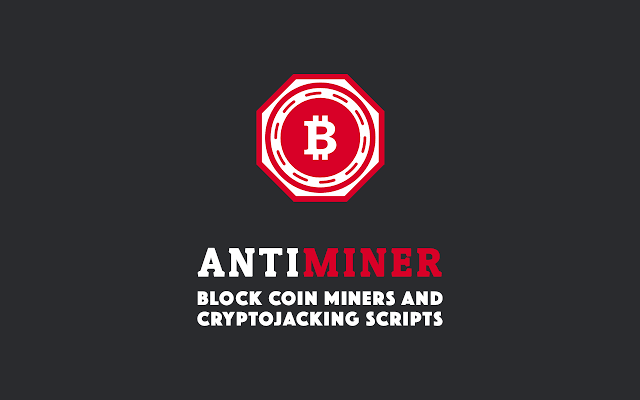 Make sure nobody using your CPU for mining cryptocurrency without your knowledge
You should decide by yourself, wether you want to mine coins with your CPU, or would like to block coin miners from using your laptop to mine cryptocurrency.
Stop cryptojack across the web!
Anti miner will alert, of website launches miner using your PC power. Miner Blocker works similar to Adblock, it focused to stop cryptocurrency miner scripts, which might be installed on the websites you visit. This scripts are using your's computer CPU to mine cryptocurrency for website owner purposes.
No Coin ( Chrome )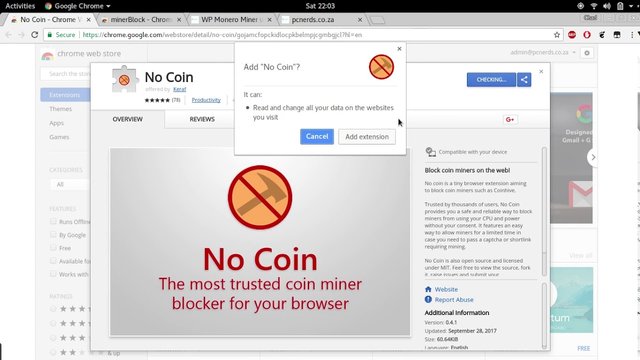 Block coin miners using your computer ressources without your consent.
No coin is a tiny browser extension aiming to block coin miners such as Coinhive.
Trusted by thousands of users, No Coin provides you a safe and reliable way to block miners from using your CPU and power without your consent.
Block Cryptocurrency Mining In Your Web Browser
It features an easy way to allow miners for a limited time in case you need to pass a captcha or shortlink requiring mining.
NoScript Security Suite (Firefox)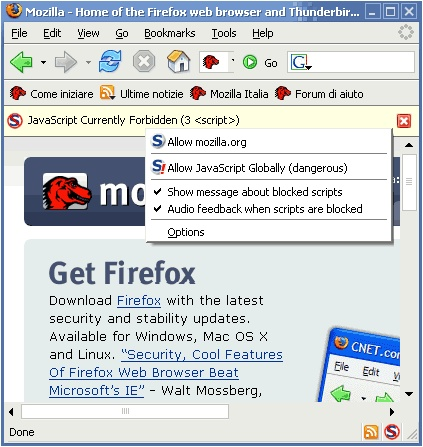 Winner of the "PC World World Class Award", this tool gives you with the best available protection on the web.
It allows JavaScript, Java and other executable content to run only from trusted domains of your choice, e.g.
your home-banking site, guarding your "trust boundaries" against cross-site scripting attacks (XSS), cross-zone DNS rebinding / CSRF attacks (router hacking), and Clickjacking attempts, thanks to its unique ClearClick technology.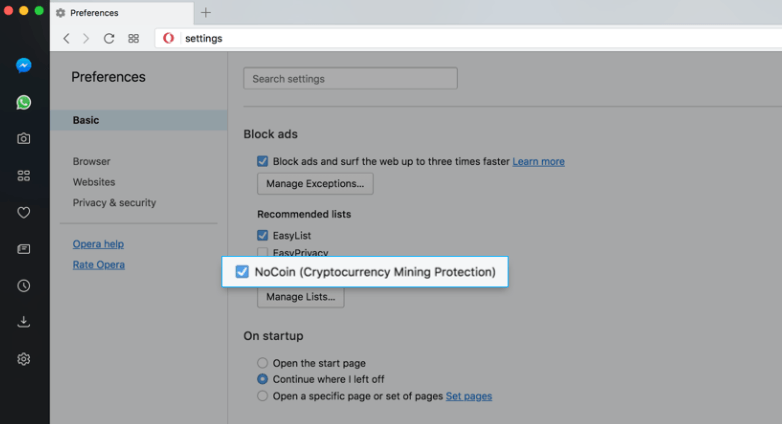 It also implements the DoNotTrack tracking opt-out proposal by default.
Install those add-on to your favourite browsers & stop unwanted websites to use your cpu from mining Cryptocurrency.

Follow : @vnyrox
Also Read :
Cryptocurrency Crisis: User Error Freezes $280 Million of Ethereum